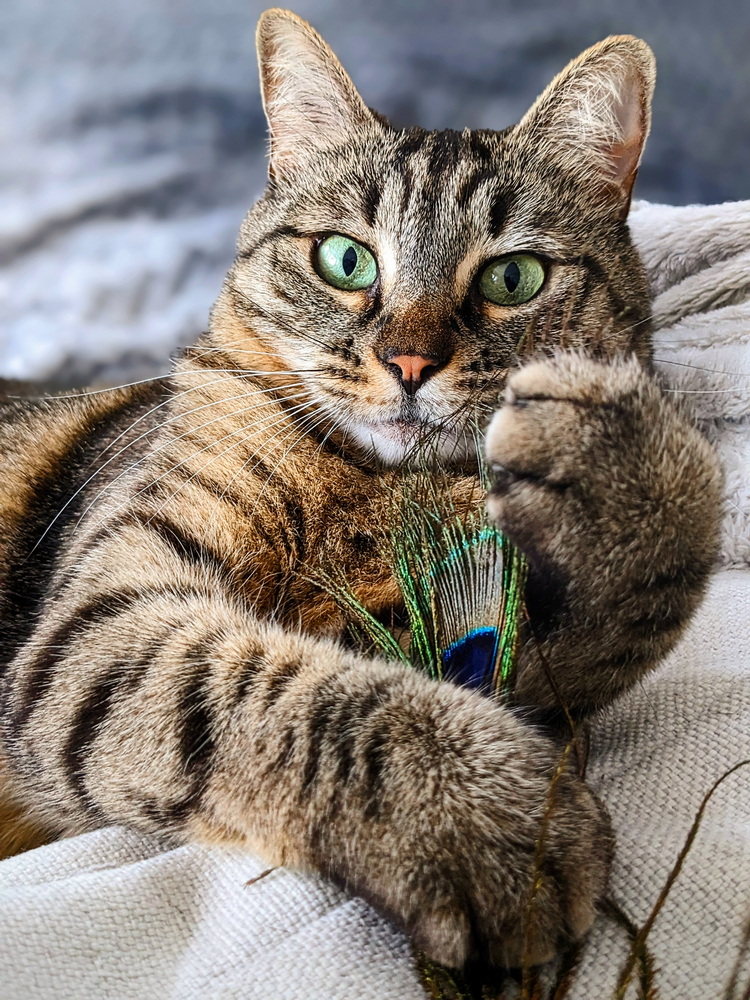 A feline companion is waiting for you.
If you're looking to add a new kitty friend to your family, rescue organizations are excellent resources for adoption and fostering. These nonprofit organizations are led by volunteers who treat cats with kindness, empathy, and respect. Happy pet finding!
Cat Adoption Team (CAT) has been offering adoption, foster care, and veterinary services to homeless cats and kittens for over 25 years. They're based in Sherwood, OR and provide programs that support people in caring for cats. On onsite hospital offers a low-cost spay/neuter clinic to assist cat owners who are in financial need. And CAT partners with Meals on Wheels to provide cat food to local seniors and homebound clients.
Cat's Cradle Rescue is an all-volunteer, foster-home based no kill rescue based in Hillsboro serving Oregon cats who need new homes. Since 2012, Cat's Cradle Rescue has rescued, fostered and adopted over 2,000 cats and kittens (and counting!). They invite you to become a foster parent and experience the great satisfaction of helping a cat or kitten in need.
Cat's Meow Cat Rescue is a foster based rescue located in Milwaukee, OR that's dedicated to improving the lives of cats and kittens. Their mission is to help improve the overall lives of cats in their community and their rescue partners to help find homes for cats. They also provide trap-neuter-return (TNR) to finding placement for abandoned or unwanted cats.
Greenhill Humane Society has been operating the only animal shelter within the Eugene/Springfield area since 1944. Their programs include animal adoptions; reuniting lost animals with their families; disaster response; crisis care boarding in situations of domestic violence, medical emergencies, and other crisis situations; spay/neuter for free roaming, un-owned community cats; a pet pantry; on-site volunteer opportunities; foster care and humane education.
Hazel's House Rescue began when a family member asked to help with a litter of kittens found in a barn. After socializing and adopting them out to their friends, they absolutely fell in love with rescuing. The rescue takes in cats, kittens, dogs and the occasional small animal from all over Oregon and, when possible from high-kill states. They also have resources for low-cost spay and neuters, TNR, and food.
House of Dreams provides shelter and care for abandoned and homeless cats, with the goal of finding them permanent homes or providing them a lifetime home in their facility. They are a free-roam shelter, where resident cats can explore, mingle, or curl up in their own private space. And they are a no-kill shelter, which every healthy or treatable cat can call home for the rest of its life or until it's adopted into a loving home.
Meow Village is based in Aurora, OR and focuses on improving the quality of life for feral and abandoned cats. They are committed to providing them a safe environment to live which includes food, shelter, spay/neuter and medical treatment as needed.
Northwest Animal Companions
Northwest Animal Companions fosters all of their rescued cats in the homes of their dedicated volunteers. They spend serious quality time getting to know these pets and their adoptive families, too - ensuring you're matched with the perfect furry BFF.
Oregon Friends of Shelter Animals
Oregon Friends of Shelter Animals has been working tirelessly, since 2002, to save homeless pets from high-kill shelters. They're is a foster-based animal rescue that wants to save as many "last chance" adoptable animals as humanly possible from overcrowded shelters, restore them to health, and find them loving forever homes.
Oregon Humane Society offers a wide variety of services from pet adoption, training, humane law enforcement, veterinary care, humane education, and disaster response. They put no time limits on how long animals remain at the shelter. A pet stays available for adoption as long as needed to find a loving home.
Orphan Kitten Rescue of Oregon
Orphan Kitten Rescue of Oregon is based in Dundee, OR and provides quality care to unwanted and abused cats by educating the public in proper animal care, emphasizing the importance of spaying and neutering.
The Pixie Project is an animal adoption center and rescue that offers a variety of services to the public: pet adoption services, pet owner education and support and low cost and free spay and neuter and veterinary services for homeless and low-income pet owners. 
Need a calm, caring, and patient pet sitter for your pooch?