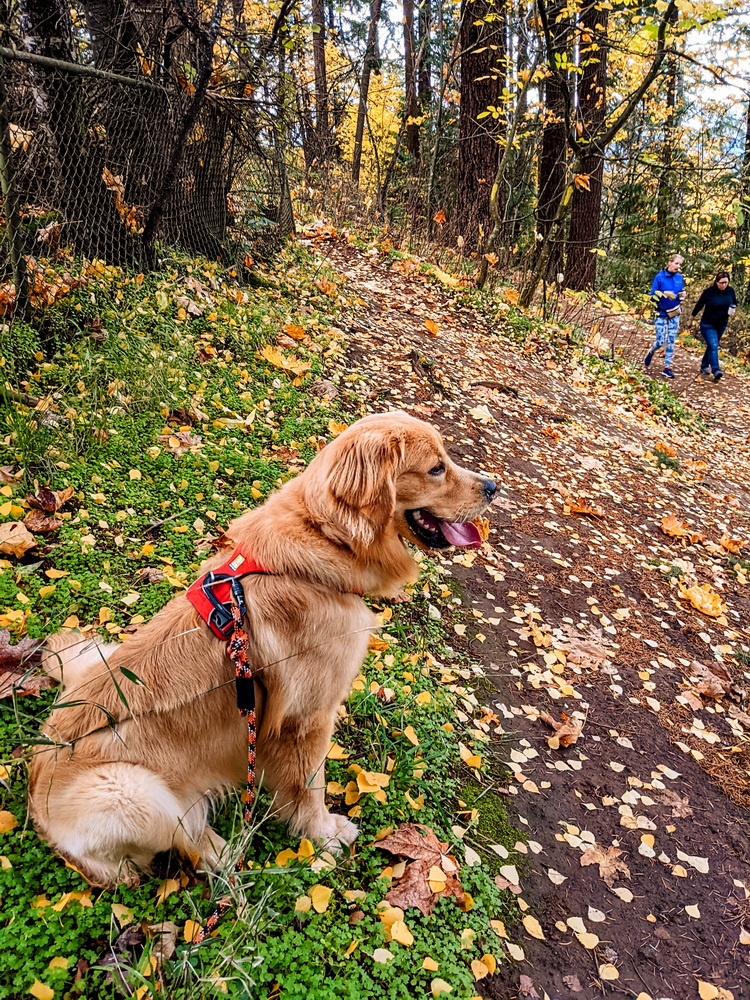 Recommended gear to keep your pup and you safe.
These are some of the products that I use everyday to keep my clients happy, warm, and safe. If you're looking to upgrade your gear for the fall and winter, it's all here.
Dog Harnesses, Leashes & Coats
Ruffwear front range harnesses are perfect if your dog is anxious, chases squirrels, or is an escape artist. I use it for my walking clients because it keeps pets safe and secure. It's padded and includes reflective strips. The thick metal back-clip works great with a carabiner.
Ruffwear Sun Shower dog raincoat is lightweight, waterproof, and is designed to work with a Ruffwear harness. It also has reflective strips for safe night walking. The storm collar folds up and the coat provides coverage over the neck, rump, and thighs to keep your dog dry.
Wilderdog leashes are all made of 3/8" rock climbing rope for medium-sized dogs and up. Each leash has a locking carabiner so your dog is always secure. Works great with a Ruffwear harness and has a lifetime warranty. I use the 10' length and it's like having three leashes in one.
RC Pets Cascade Coat is mid-weight, wind-resistant, and water-resistant. The side print is reflective and also has a fleece lining to keep your pooch warm. It's really good for cold fall and winter morning dog walks. This coat is ideal for small to medium-size dogs.
MyDogsCool leashes are handmade with professional-grade climbing rope, carabiners, and a nanoSwivel. They are for medium and up dogs like german shepherds and great danes. Every leash is made a custom order and isn't cheap but worth every penny.
Ruffwear Grip Trex dog boots are excellent for dogs who like to hike, run, and explore the outdoors. The boots are all-terrain and made with a 100% polyester breathable mesh material. They also have reflective trim for night walks.
Dog Walking Clothing for Fall to Winter
Sherpa Women's Pumori Jacket is triple-layered and has deep pockets for your gloves. It's great for layering with a hoodie or fleece and has adjustable sleeves with a metal zipper.
Sherpa Men's Pumori Jacket is what I use every day while walking my client's dogs. It's medium weight and fits a hoodie underneath to keep you extra warm. There's a zipper pocket on the left chest for storing your phone.
tentree Oberon zip hoodie for men is mid-weight and made with organic cotton and recycled polyester blend. It's crazy soft and very warm with a fleece lining.
tentree Burney hoodie for women is similar to the men's version but without a zipper. It has an overlapping collar that keeps the cold out. Made of recycled polyester and organic cotton.
Nayked Ridiculously soft hoodie is what I wear every day for walking my client's dogs and it's crazy soft. Perfect on its own or for layering with a Sherpa rain jacket so you stay warm.
Lee Men's Extreme Comfort cargo twill pants are mid-weight, flexible at the waist, and perfect for long walks with your clients. There's two side pockets for storing poop bags, face masks, snacks, and your phone. Love these!
Milwaukee Performance gloves are the next step up in thickness from the Husky gloves if you're looking for extra protection from a rope leash or a fearful dog.
REI Co-op fleece gloves for women delivers weather-resistant warmth that breathes well, resists pilling and dries fast. You can also use your mobile phone with these gloves.
Seirus Xtreme all-weather gloves will keep your hands dry on dog walks when it's light to medium rain. They run tight so order one size up for an ideal fit. Best for mid-temperature days.
Sealskinz gloves are great for when you're walking a client's dog on a cold and windy day. The material is pretty thick but breathable. They're water-resistant but not waterproof.
All-Weather Shoes for Dog Walking
Forsake Mason Mid is a men's lightweight and waterproof sneaker boot that can handle everything from walking on sidewalks to hiking in the forest. Great all-weather kicks!
Forsake Lucie Mids is a women's waterproof sneaker boot that's perfect for both the street and the trails with your client's pooches. They're warm, comfortable, and cute so you go girl!
Vessi Weekend Chelsea women's boots are 100% waterproof and made with vegan materials. Your feet will stay cozy, warm, and dry while walking your client's pooches in the rain.
Vessi Weekend shoes for men are 100% waterproof, lightweight, and breathable. You can even run these dog walking kicks in the washer.
The Donnybrook Scally Cap is what I wear every day while walking my pooches. It's made from wool and polyester ships direct from Boston. Pick one up and look like Chuck 😎
Dog Walking Safety & Accessories
Ruffwear Beacon dog safety light is rechargeable and lightweight for keeping your pooch seen at night. Its LED is quite bright with three colors: red, green, and blue. It's also waterproof and features a locking clip.
Nite IZE SpotLit LED collar light keeps your pooch safe on walks at night. It's 1.25" round with a small carabiner that attaches to a collar. There's blinking and non-blinking modes. Ideal for smaller dogs.
Earth Rated dog poop bags are large, thick, and durable. With these bags, you won't smell the poo on your hands while handling them. They're also environmentally friendly which is a plus.
RUFFWEAR Treat Trader is comfortable, water-resistant, and holds a ton of treats. It has a magnetic snap clip so you can feed with one hand. Also has a pouch for about 10 poop bags.
4Knines Dog Car Seat Hammock is very high quality, waterproof, and machine washable. It stays in place and doesn't slide around in your car. Also has a hammock option and is great for calming anxious dogs.
Need a calm, caring, and patient pet sitter for your pooch?